The Classic Bowrider
Bowriders have long been one of the top choices for recreational boaters across the world. They are very versatile in the fact that they can hold a good number of people, have good performance for skiing or other watersports, typically feature stylish designs and can be purchased for a reasonable price.
Bowriders feature an open front seating area as opposed to having a cuddy or cabin area. This greatly increases seating room and makes bowriders a great choice for dayboaters who don't have the need or desire to overnight on their boat.
In the early days, bowriders were typically small boats ranging from 16-20' in length. In recent years, bowriders have greatly evolved in size and features to attract a greater range of buyer. Let's take a look at some of the variations and features offered in today's boats.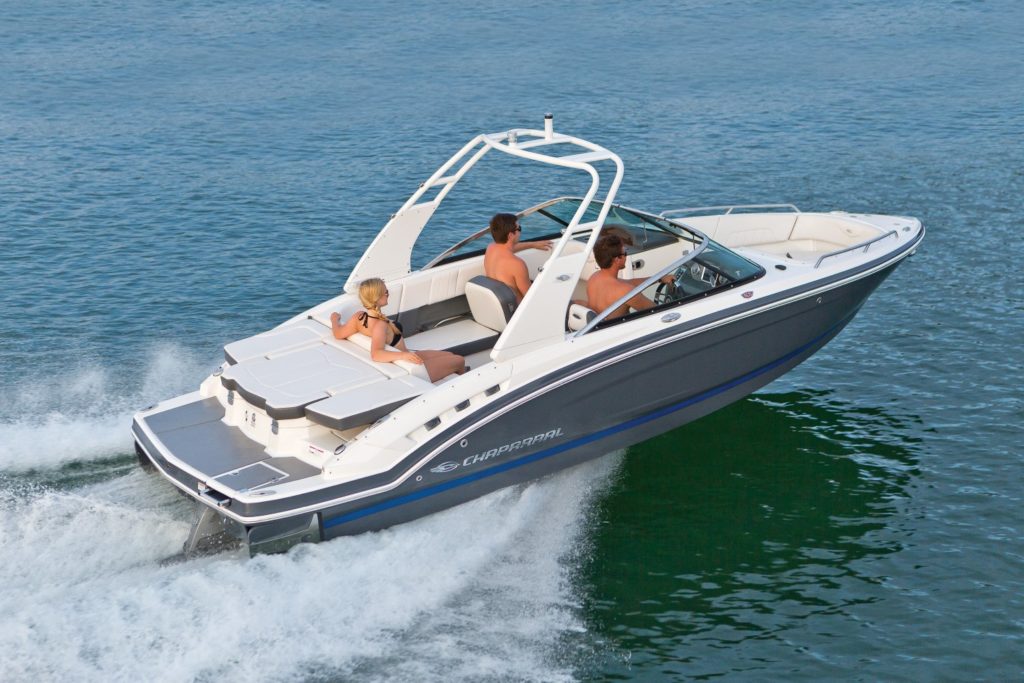 Types of Bowriders
The term "bowrider" covers a wide variety of boats.  Bowriders come in a great range of sizes.  They can be powered with a stern drive (I/O), outboard, jet drive, or inboard motor.  The hull designs and layouts vary quite a bit as well.  We are going to cover the entire spectrum of open-bow style bowriders in this article.  You might be surprised at how many variations of bowriders are on the market today.
Traditional Bowrider (21′ and less)
The traditional bowrider is a pointed-front, open bow boat.  This is the most common style of bowrider, and the bread-and-butter of the market.  This style boat features a cockpit, usually enclosed by a windshield.  The bow of the boat is the area past the windshield which will mostly be an open seating area.  We are going to start by discussing the smaller size range of bowriders (21′ and less.)  Keep in mind that these smaller bowriders, especially the ones under 19′, are meant to be used on smaller bodies of water.  Their overall size does not handle rough conditions as well as the larger boats.
Smaller bowriders of 21′ and less will typically have a bench seat in the back of the cockpit with dual captains chairs and bench seats in the bow.  There isn't enough room to get fancy with the layout, so most companies keep these boats pretty simple.  The biggest difference between different brands will be in the width of the boat.  Construction quality will vary as well from one brand to another.  One of the best selling small bowriders on the market today is the Chaparral H2O 21 Sport.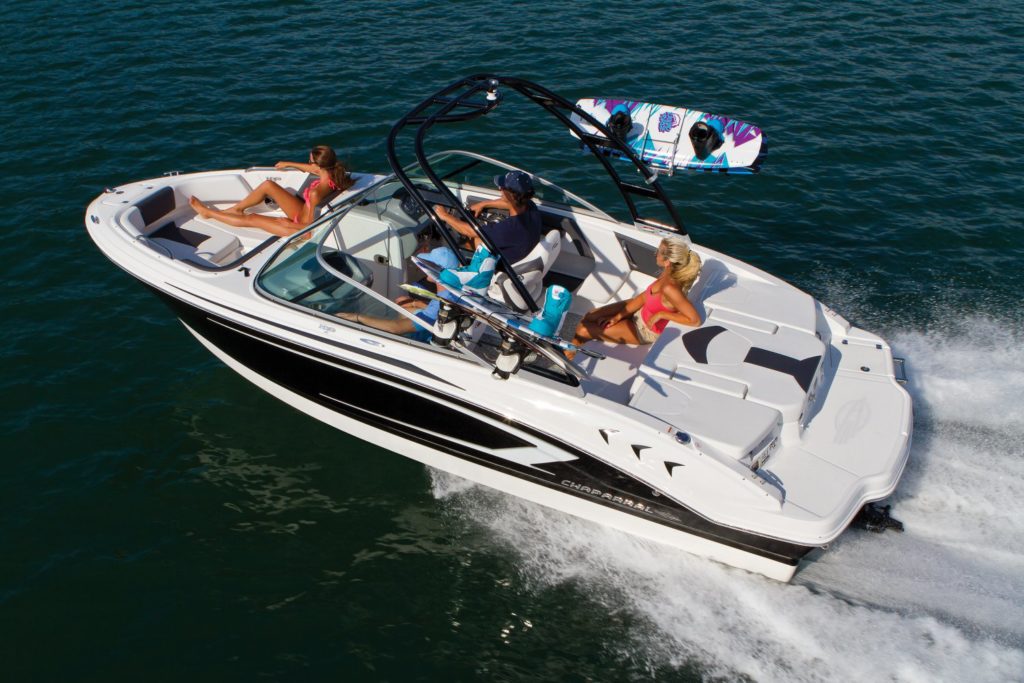 Traditional Bowrider (22′ and larger)
As we move into the larger size range of bowriders, you will find that the overall design is similar, but the layouts and options are much more elaborate.  As you might expect, the price of these larger bowriders can go up substantially.
One of the big differences you will start to see in larger bowriders is the variety of layouts available.  Some boats will have a U-Shaped seating layout.  A good example of this is the Chaparral 246 SSi, which is one of Chaparral's best selling models.  This is a large, deep bowrider capable of handling rough water while staying at a reasonable price point.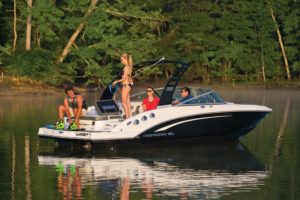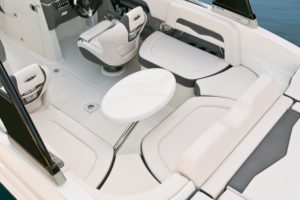 Once we get into the higher size range of bowriders (25′-28′), you will begin to see some very innovative layouts.  These layouts tend to have seats that switch positions to either accommodate more riders or create a great lounge area on the back of the boat.  The Chaparral 257 SSX has one of the most innovative layouts you will find on a large bowrider.  It has electric folding seats in the rear that convert to loungers, and a port side seat that slides and swivels to create different seating configurations.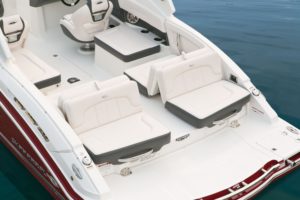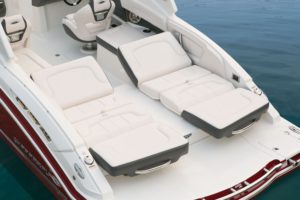 As we approach the 30′ size range of bowriders, you are getting into a whole new class of boat.  Many of these large bowriders are available with twin engine packages.  They are also typically wide-beam boats.  This means that they are over the legal limit for hauling down the road without a permit.  The legal width for a trailer in most states is 8'6″.  Some of these bowriders get into the 9'6″ and over range.  Plenty of people still haul them, but keep in mind that you will need to acquire the appropriate permits.
If you plan to keep your boat at a marina and use it on a rough body of water, this size boat might be perfect for you.  These boats can handle extremely rough water due to their overall size.  They are also going to have lots of bells and whistles to go along with their impressive size.  The Chaparral 307 SSX is a very popular model in this size range.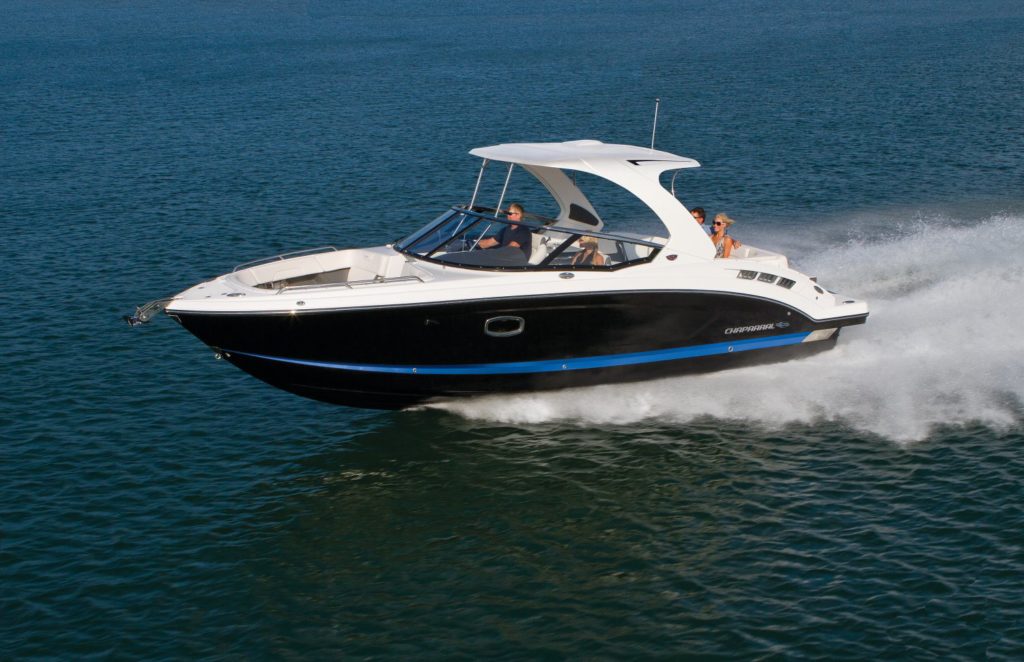 Mid-Cabin Bowriders
There is one more category of bowriders that is even larger than the traditional large bowrider.  In recent years, there has been a demand for a large bowrider that also has a cabin.  This gives the boater all the advantages of seating and room offered in a large bowrider, while still having a cabin with ammenities.  Chaparral was one of the first manufacturers to release a mid-cabin bowrider.  This model is currently called the 337 SSX.  The 337 has a huge cockpit and open bow.  On the port side where the head normally is, this door opens and steps down into a cabin below the center of the boat.  It comes with a sleeping berth and head.  It can be equipped with heat/ac, flatscreen tv and more!  This boat is the perfect combination of a cruiser and a large bowrider.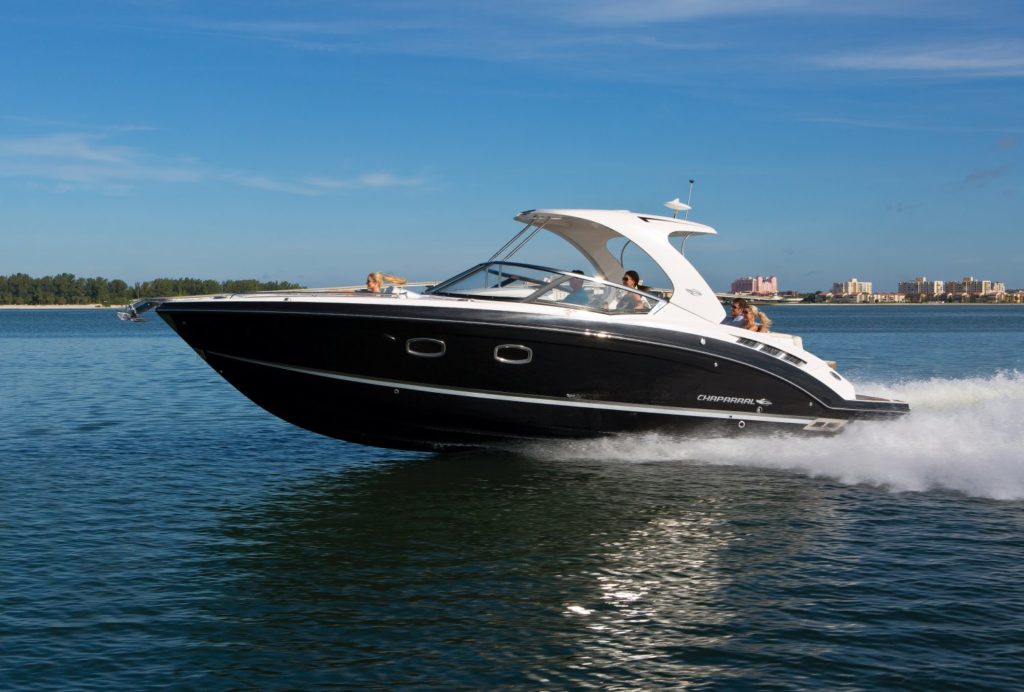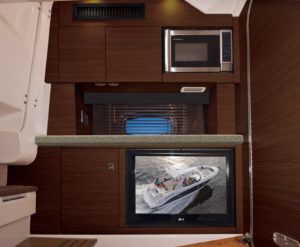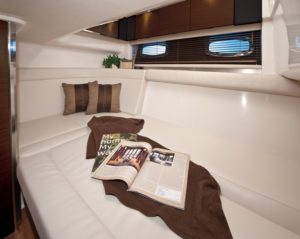 Ski & Fish Bowriders
If you are looking for a traditional bowrider, but like to do some fishing on the side, a ski & fish bowrider might be perfect for you.  Ski & Fish boats have a traditional seating layout, but also have removable seats which double as fishing chairs.  They typically also have features such as a trolling motor, livewell, rodholders & fishfinder.  These features in a bowrider basically makes the ski & fish two boats in one.
Chaparral makes several ski & fish models.  They offer 19′ & 21′ stern-drive models, as well as a 21′ outboard model.  These boats are very well thought out.  They can be the best answer for the family who wants both a pleasure boat and a fishing boat.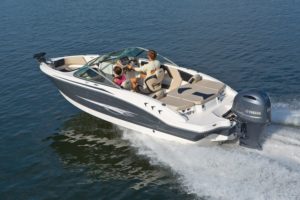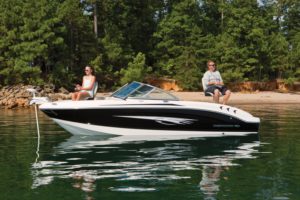 Deck Boats
Another very popular version of bowrider is the deck boat.  A deck boat can be very similar to a traditional bowrider, but it tends to have some pontoon boat qualities inside the boat as well.  Deck boats still have a fiberglass bottom.  The newer style deck boats even share the same hull design and running surface.  The only difference is within the boat and above the water line.
One common characteristic of deck boats is a much wider front-end.  This wide bow design tends to give a more open seating layout in the front of the boat.  This is a big draw for people who want the extra room a pontoon provides, while still getting the looks and performance of a bowrider.
Chaparral makes 2 lines of deck boats.  The first is the Sunesta series.  Sunestas are powered by a stern drive motor and come in sizes ranging from 22-26′ in length. These boats are very similar to the traditional Chaparral bowriders, aside from the wide bow seating area.  All three models also include enclosed head compartments.
The second series is the Suncoast.  Suncoast models have an even more open layout than the Sunestas, but the big difference is they are outboard powered.  This allows Chaparral to extend the cockpit back further, thus giving more room inside the boat for seating.  The Suncoast series is the closest thing to a pontoon boat layout you will find in a bowrider.  Suncoast models range from 19′-25′ in length.  They are also very popular in saltwater applications due to the outboard motor.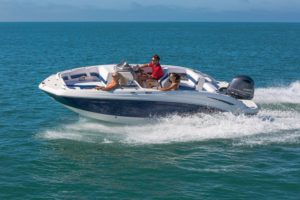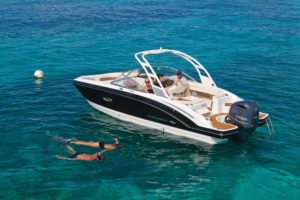 Jet Boats
Jet boats are currently the quickest growing segment of the bowrider market.  They have similar looks and styling to traditional bowriders.  They typically range in size from 20′-24′.  Jet Boats have several distinct advantages over stern drives.  They have a huge amount of space inside the cockpit.  This is due to the jet engines allowing the builder to extend the seating further back and eliminate the sunpad that goes over stern drive motors.  They are also safer without a prop, and can operate in very sallow water.  Performance is a big plus as well.  Jet boats are great for watersports.  Their acceleration is top notch, and they can turn on a dime.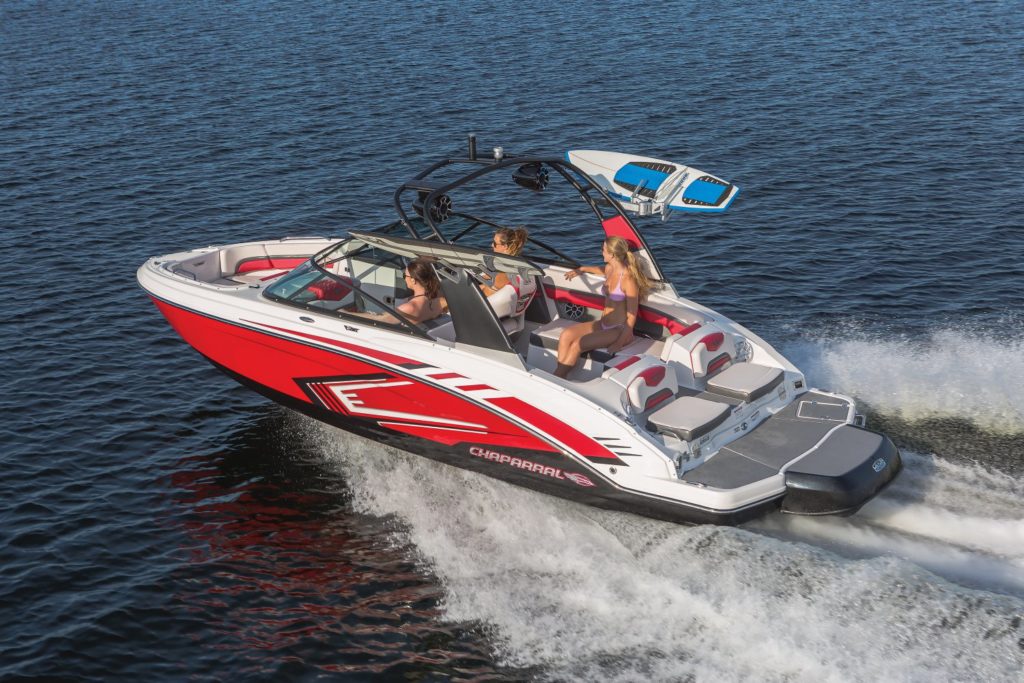 Chaparral makes a full line of jet boats called the Vortex Series.  Vortex Jet Boats are offered in 20′, 22′ & 24′ lengths.  They have lots of high end equipment standard as well as some high tech watersports computer assist systems.  Check out our article on Jet Boat Basics for more information.
Performance
All bowriders are naturally going to have good performance, however their characteristics will differ depending on the style of motor and number of engines.
Stern drive bowriders have long been the most popular powerplant because of their versatility. They handle well at low speeds, they have high speed capability, good acceleration and are very good in rough water conditions.
Outboards are also good in most of these situations, and the ease of maintenance make them a great choice for saltwater applications. Outboards are typically found on smaller boats however, and larger boats require twin engines to produce similar performance as a large stern drive.
Jet boats are a growing trend due to their "fun factor." The acceleration is incredible on jet boats with adequate power, they can operate in shallow water, and they don't require a prop or outdrive on the back of the boat. Some jet boats can be very difficult to handle at low speeds, but other manufacturers have recently developed systems to alleviate that problem making them a great all-around option as well. Be sure to take a close look at how a jet boat handles at low speeds in your shopping process.
Inboards are great boats for all watersports. The acceleration is very good and they have very little bowrise. Their top speeds, however, are limited due to the specialized nature of their design and many don't run much faster than the 40mph range. Handling around the docks can also be challenging on an inboard. Be sure to look into this factor on inboards as well. However, if you plan to spend the majority of your time wakeboarding, wakesurfing, skiing or doing any other watersports, these boats might be the best fit for you.
Conclusion
As you can see, bowriders come in a huge variety of packages that fit the needs of nearly every boater.  This is why bowriders are one of the most popular styles of boat in the industry. Look up your nearest dealer and go take a look at some boats. This is the best way to find the style and layout of boat that best fits your needs.
If you are still in the research process, check out some of our bowrider reviews here.  For more information on the boats offered by Chaparral, check out their website at chaparralboats.com.