The Harris Cruiser: A Great Place to Start
Harris Boats is one of the top pontoon boat manufacturers in the entire industry.  Harris currently makes 6 product lines of boats, and the Harris Cruiser is their entry-level model.  Don't let the term "entry-level" fool you though.  This is a high-quality pontoon with a lot of great standard features not found on other pontoons in the same class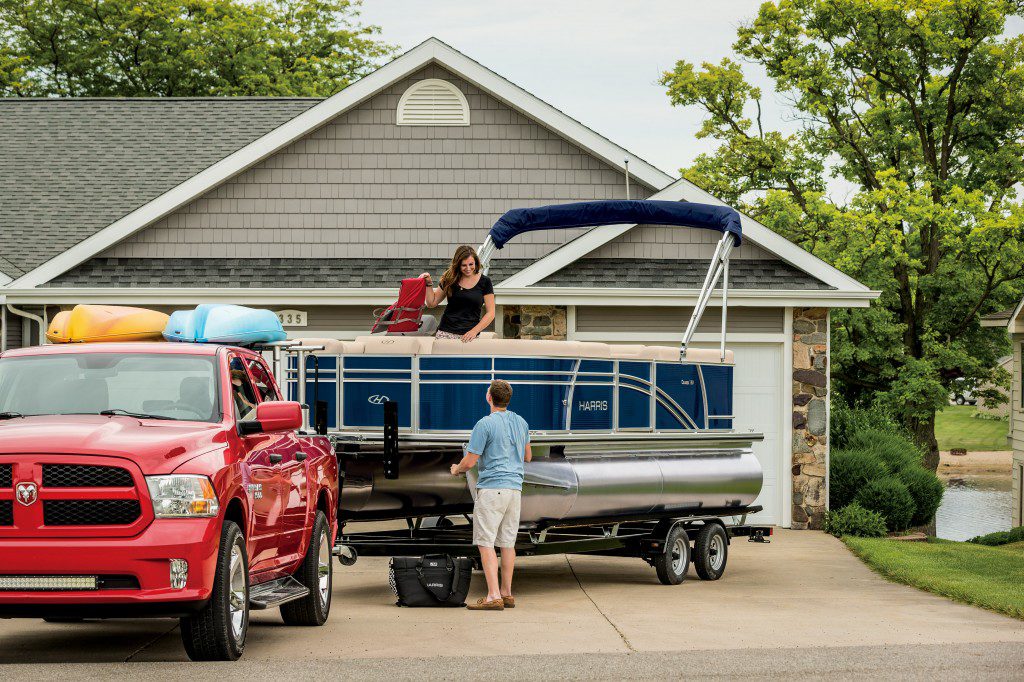 About Harris
Harris is no stranger to boat building.  They have been building high quality pontoon boats for over 60 years now.  They are currently owned by Brunswick, who is also no stranger to the boat business.  Brunswick owns other marine industry companies such as Mercury, Sea Ray, Boston Whaler and many more.  Harris is the flagship brand of pontoons for Brunswick, and they carry that flag very well.
There are many pontoon boat manufacturers in the boating industry today.  At last check, there were over 50 boat builders in the pontoon market.  Although many of these companies make acceptable pontoon boats, they are far from exceptional.  You will be hard pressed to find a better bang-for-the-buck than with Harris Boats.  Being such a large manufacturer gives them the buying power to incorporate lots of great features on their boats at a better price point than their competition.
One thing that might be of greater importance than the boat itself is the company who backs it.  Many of these 50+ boat builders are small companies who don't have the deep pockets to stay in the business long-term.  When times get tough, they will be gone or sold and your boat warranty won't be worth the paper it's written on.  This is obviously not a concern with Harris.  You can buy your boat knowing they will be around long term to take care of you and keep the value of your boat high.  This will prove to be very valuable when it comes to the resale value of your Harris Pontoon.
Quality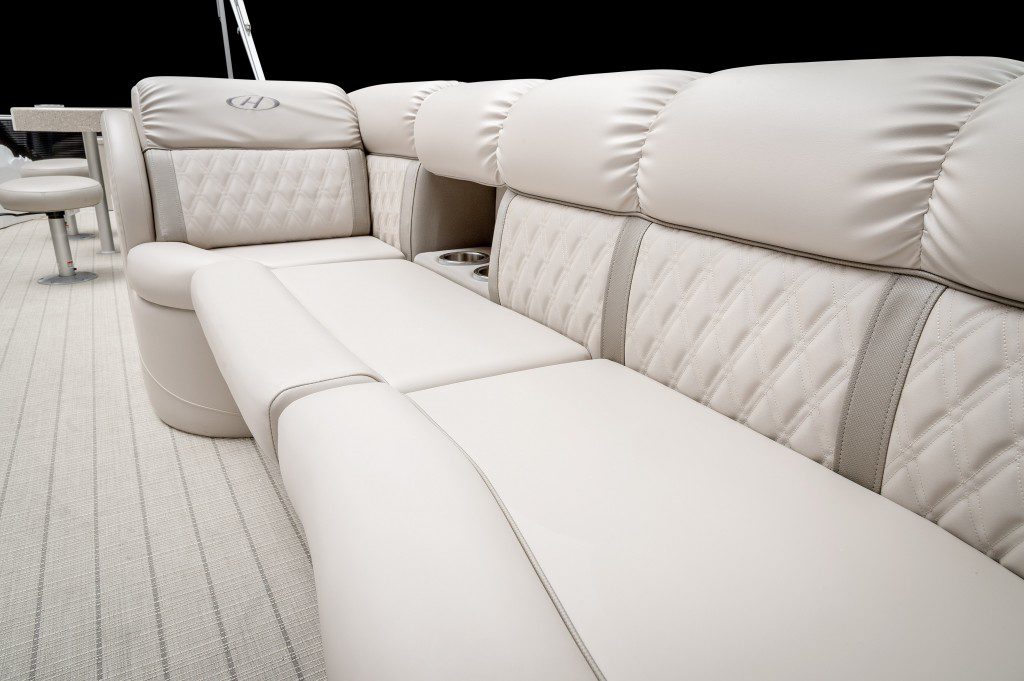 Harris uses only the most premium materials and construction in all of their boats, and that includes their entry-level Harris Cruiser Series.  Whether you purchase an entry-level Cruiser, or their top of the line Crowne, your boat will run down the same assembly line and use many of the same materials and construction methods along the way.  The difference comes in with all the bells and whistles, but if some of these features aren't of high importance to you, you can know that your Cruiser is one of the best-built entry level boats in the entire industry.
Models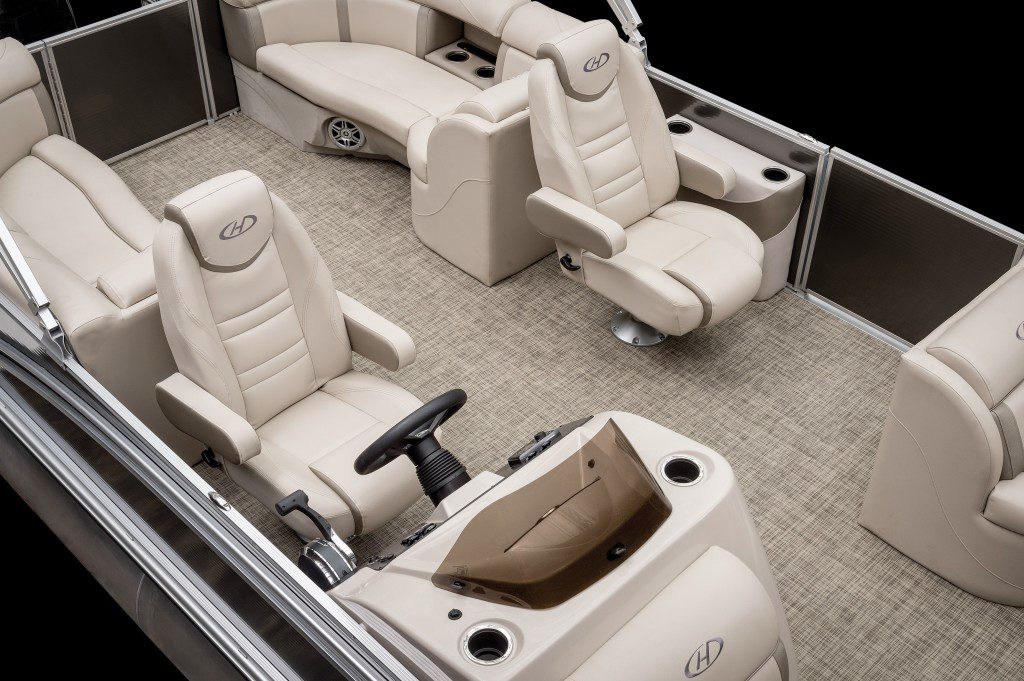 The Harris Cruiser is available in 4 different models including the 180, 200, 220 & 240.  Once you choose the size of boat that fits your needs, you will need to choose the layout and log package.  This will probably vary greatly depending on what type of body of water you intend to do your boating on, as well as it's intended use.  Nationwide, the top selling models are the 220 and 240.
If you are new to the pontoon industry, one thing you will find is that you can upgrade the size of the boat for a very minimal fee.  Fiberglass boats go up in price, sometimes exponentially, as you go up in size.  If you have the resources to store and tow the larger boat, and it fits within any potential restrictions your boating destination might have, it makes sense to get as much size as possible.  This will also open up your options regarding layout and engine size.
Harris Cruiser Redesign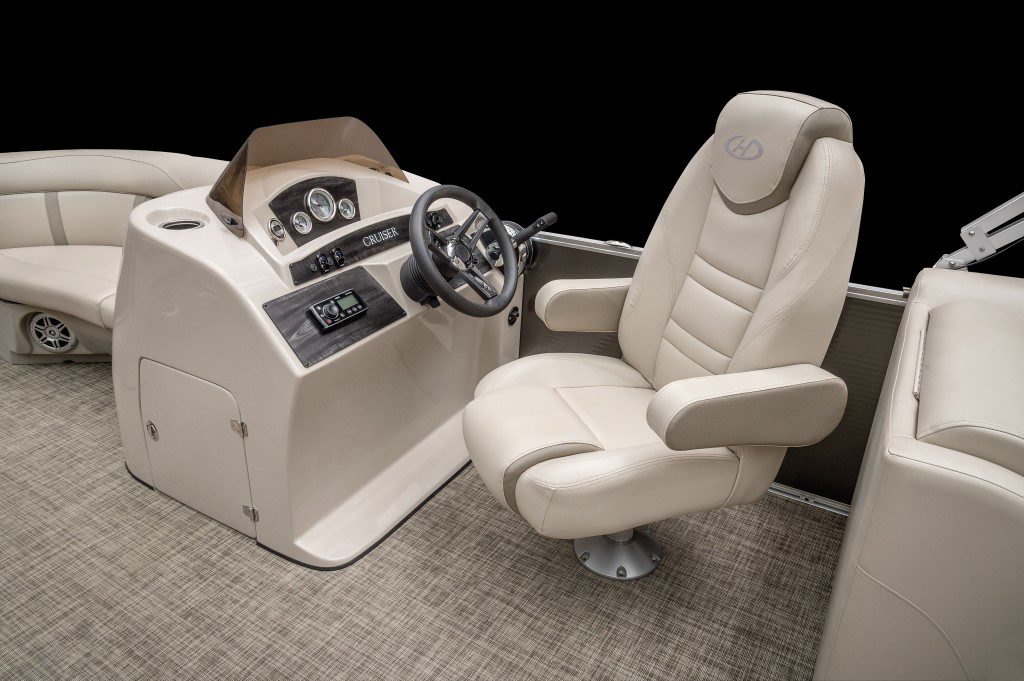 The Harris Cruiser was redesigned in 2017, and it is currently one of Harris' top selling models.  Harris upgraded the entire interior design with more trim, recessed cupholders, an upgraded helm and much more.  This makes the boat comparable with much more premium boats from other manufacturers, while keeping a much better price point.  In 2017, Harris was completely sold out of production slots shortly after the first of the year, and the Cruiser is a big reason why.
Layouts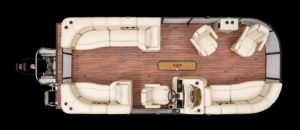 (Note: The above thumbnails are only a few of the many layouts available on the Cruiser Series)
One of the downsides to purchasing an entry-level boat from other manufacturers is the limitations to layout choice.  This is not the case with the Harris Cruiser.  Harris offers nearly all of its most premium layouts in the Cruiser series.  The most popular layout is the CS, or L-Shape Seating layout due to the great price point.
If you want a more elaborate layout in the Cruiser without paying for all the bells and whistles that come on the more premium level boats, you can get that as well.  Harris offers the DL (rear-facing lounger), CWDH (Center Walk-Thru Dual Helm), and even the SL (Single Rear Lounge Flip Seat) layouts in the Cruiser Series.  The SL Layout is one of Harris' top selling layouts, but up until 2017 you would have to upgrade several levels to have this option available.  This is no longer the case, as the SL has become a top selling layout even in the Cruiser series.
Another very popular layout on theHarris Cruiser series is the FC layout.  FC stands for fishing center, and this layout will basically give you a pontoon that is 1/3 fishing and 2/3 cruising.  The front 2/3 of the boat will have traditional bow benches and side bench seating.  The rear 1/3 comes with dual fishing chairs and fishing center between them.  The fishing center includes rod holders, livewell, tackle box holder & surface top for cleaning fish.
Performance Packages
Another huge selling feature in pontoons recently is a tri-toon package.  If you are not familiar with what a tri-toon is, check out our article on Introduction to Tri-Toons.  Harris offers 2 tri-toon packages on the Cruiser.  The first is the P1 Sport Tri-Toon.  This gives you a ¾ length center tube and can accommodate engines up to 150hp.  This is a great selling package on this boat, as it gives you a tri-toon with impressive performance for an incredible value.
If you want a little more performance, you can upgrade to the Performance Package Plus (P2.)  This will upgrade you a max. hp rating of 200 by giving you a full center tube, big lifting strakes and a full aluminum underdeck.  It will also give you the option of adding the in-floor storage option.  This is a great storage area built into the center tube which you access from the floor of the boat.
Flooring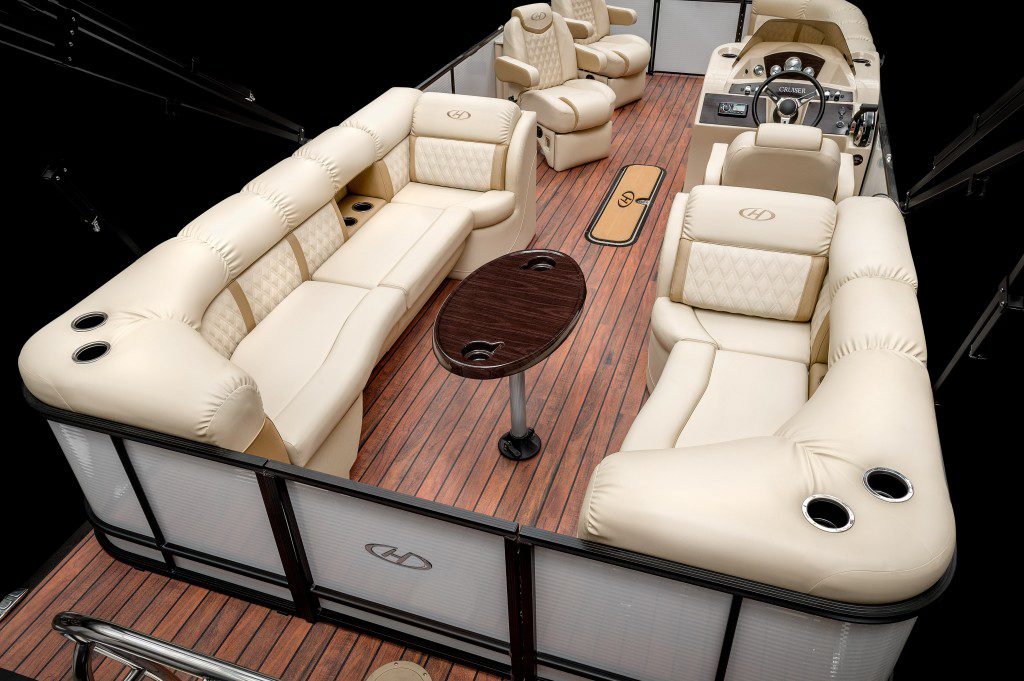 The Harris Cruiser comes standard with a full vinyl floor.  Carpet is a thing of the past in pontoon boats, so Harris has made the full vinyl standard on the Cruiser.  You can also upgrade this flooring to the woven vinyl or hard surface vinyl with the teak pattern.  Upgrading options like this on the Cruiser can really give it a premium look for a reasonable price.
Options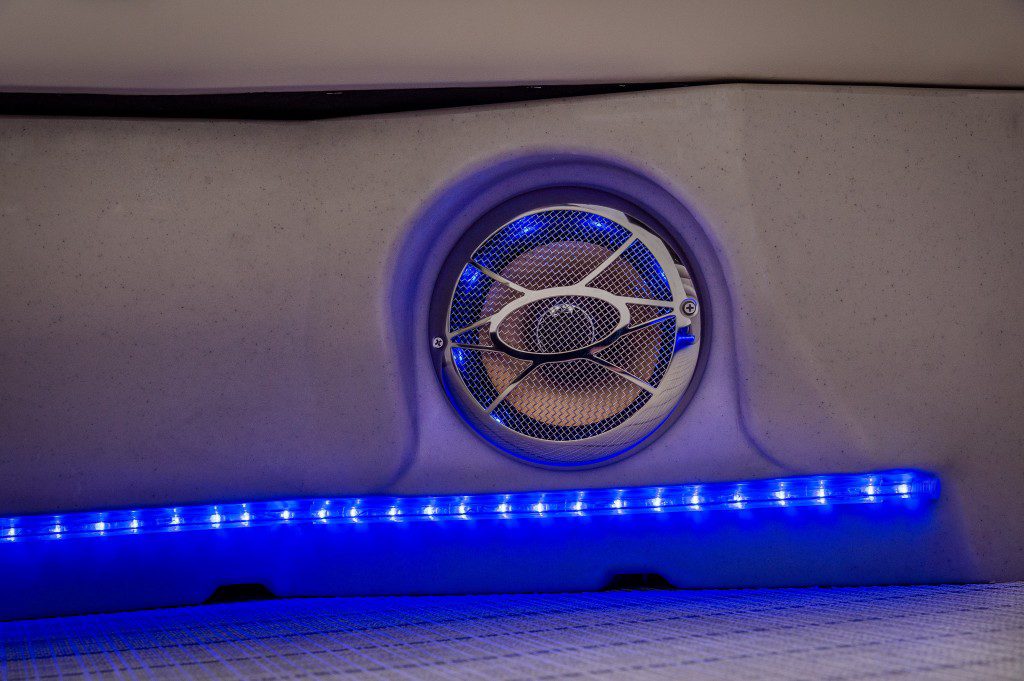 Beside the layout, performance package and flooring, you can upgrade quite a few options on the Cruiser as well.  Some of our favorite options include the ski-tow bar, safety railing on the SL Layout, interior lighting and stereo upgrade.  Harris has quite a list of available options on the Cruiser. This allows you to tailor the boat exactly to your needs.  We also like the rear-deck extension for added room on the swim platform.
The remarkable thing about the Cruiser is that it comes with so many important standard features that you won't really need to add many options.  It comes standard with a 10' bimini top & full mooring cover with quick-connect clips.  Most pontoons have a very basic snap cover and a small 8' bimini.  Harris was able to include these great standard features for a very aggressive price.  The Cruiser also includes a great 4-step boarding ladder off the rear platform.  This ladder has a wide-access entry which makes boarding a piece of cake.
Summary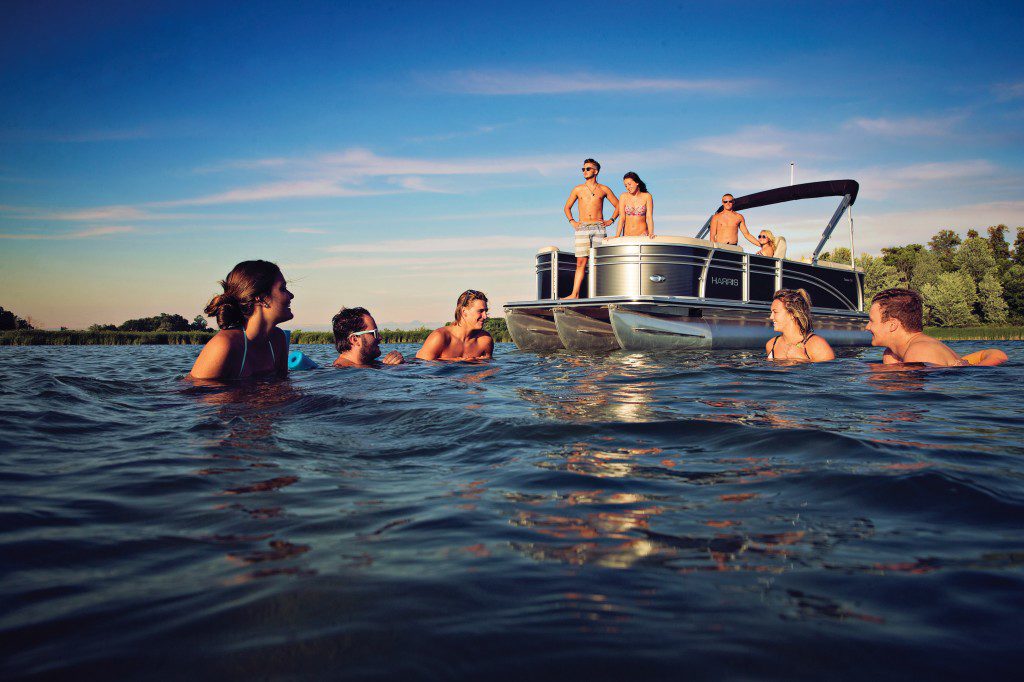 If you are looking for a nice entry-level pontoon, the Harris Cruiser should be at the top of your list.  With its redesign in 2017, the boat has a very premium look.  It is built to a much higher standard of quality than its competition.  The Cruiser comes with lots of great standard features, and you can upgrade it to a very high level from that point.  To top everything off, it is a Harris. You will know you are purchasing one of the best names in the industry that will provide you and your family with many years of worry-free enjoyment.  For more info on the Cruiser series, check out the Harris website here.  Then go to the dealer locator link.  This will help you find your nearest Harris Dealer and go check out the Cruiser series for yourself!
If you would like some more information on the basics of pontoon boats, check out our article Introduction to Pontoons.