The King of Jet Boats
The Chaparral Vortex Jet Boat series was released in 2015, and their goal was the change the jet boat world.  Mission accomplished.
Quality
Chaparral is no stranger to boat building.  They have been building quality boats for over 50 years, and they are currently the #1 selling stern drive boat builder from 18'-33' in the world.  Quality has always been a top priority for Chaparral, and their goal is to bring that quality to the jet boat world.  The Vortex Jet Boats are Chaparrals to the core, just with jet power.
Design
Chaparral build the vortex jet boats from the ground up.  Unlike other manufacturers who purchased old designs from obsolete companies, Chaparral started from scratch in designing the Vortex Jet Boats.  All the designs and construction feature Chaparral DNA just as you would find in their award winning line of stern drive boats.
Propulsion
Chaparral Vortex uses Rotax power in all the Vortex Jet Boats, and this translates to lots of horsepower.  The 2430 VRX is a twin engine package, and it is available with either the twin 200 or twin 250 engine setups.  The twin 250 package is currently the highest hp rating in the class.  These boats come standard with INR (intelligent Neutral & Reverse) and this is a game-changing feature in jet boats.  One thing to understand about jet boats is that when in neutral, there is always water flowing out of the rear outlet.  This might cause a boat to tend to creep forward, even when in neutral.  The new INR system allows the driver to electronically control the neutral position and adjust the boat to sit still, or even compensate when there is a current to keep the boat in place.
Maneuverability
Another issue with some jet boats has been the lack of control at slow speeds or in reverse.  They typically direct thrust downward or use small rudders which are very ineffective.  The Vortex Jet Boats use a Lateral Thrust Control System.  This system directs jet thrust to either side of the transom with its oversized reverse gate.  This makes the boat extremely responsive and gives the driver complete control.  It also allows the boat to maneuver in very tight quarters.
Layout & Design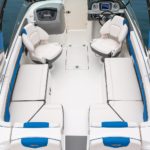 One of the biggest selling points of jet boats tends to be the layout of the boat.  Jet boats don't require a large sunpad to go over the top of the engine as you find on many stern-drive boats.  The jet motors sit lower and back in the engine compartment, allowing the cockpit seating to extend further back.  This might add 12"-18" of extra room to the cockpit of the boat compared to a comparable sized stern drive boat.  This creates a very roomy and open layout.  The Chaparral Vortex Jet Boats also feature rear facing seats on the swim platform which is another top selling feature.  This is great for relaxing when the boat is anchored or for sitting on when lacing up the boots on your wakeboard.
Center Walk-Thru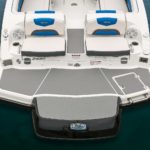 Another excellent feature of the Vortex design is the center walk-thru entry.  Chaparral has created a deep center cut-out entryway which makes entry and exit of the boat very easy.  Some other jet boats have a large hump in the middle of the boat. You have to step over this hump to get in and out.  Obviously this can be challenging, especially in rough-water conditions.  Chaparral offers a rear filler cushion as well, so seating is not lost because of this design.
Enclosed Head/Changing Room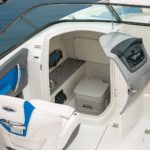 The 2430 comes standard with an enclosed privacy room.  This is useful for several applications.  First, there is a pump-out porta-pottie option available from the factory which is a feature that is important to many boaters.  Chaparral designed the head to open from the top as well, so it is very usable, even for adults.  Some head doors in other boats require you to practically twist yourself into a pretzel to get in and out of.  Chaparral felt it was important to make this room functional for all boaters, not just to list as a feature.  If you don't plan on using the porta-pottie feature, that's ok too.  It also makes for a great changing room or dry storage area for larger items.
Electronics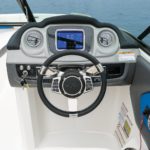 The 2430 Vortex is offered with an optional Medallion 7" color touch screen.  This is an option you will find on nearly all Vortex Jet Boats.  It is an easy to use interface.  It allows you to control basically all of the boat functions right at your fingertips.  Some of the higher end standard features include the Ski Mode, Docking Mode, Cruise Control & Eco modes.  These speed controls are GPS based and are very accurate.  The ski mode allows the driver to select a takeoff speed and tow speed when towing a rider.  Once this feature is engaged, the driver simply has to put the throttle down and steer the boat.  The speed and takeoff are GPS controlled.  This makes towing at a set speed a piece of cake for the driver.
Tower
The Chaparral Vortex 2430 comes standard with a folding arch tower.  This tower also includes a folding bimini top.  If you have low clearance storage area, 1 person can easily fold the tower down and it then sits just higher than the windshield in the down position.  If you choose the Wetsounds premium stereo option, this will also include 2 Wetsounds tower speakers.
Other Features
The 2430 is loaded with other great standard features, much too long of a list to include here.  Some of our favorite features include the bow anchor locker & boarding ladder, rear transom speakers & bow flip-up arm rests.  The best way to check out all the great features of this boat is to visit your local Chaparral Vortex dealer and hop inside one for yourself.
Summary
Chaparral has done an outstanding job in designing the 2430 Vortex.  The fit and finish of this boat are second to none.  Performance is breathtaking and you will fall in love the minute you take this boat for a spin.  If you are looking for a top of the line jet boat in this size range, look no further than Vortex 2430 VRX.  For more info, check out vortexboats.com.  And if you  aren't quite sure jet boats are right for you, check out this article discussing the basic advantages of jet boats in general.